News

by Abril Fernández Zaghini
En el barrio porteño de Recoleta, un departamento en un edificio de Alejandro Bustillo fue reacondicionado buscando el equilibrio entre la arquitectura original restaurada, el nuevo mobiliario y la paleta de color propuesta.
by Lucrecia Alvarez
2020
Revista Living
Edicion Octubre
"Los proyectos en los que participo no son de esos que enamoran al 100% del público", "Me parece interesante que sean únicos, y creo que está bien que alguien se enamore y otro diga 'yo acá no viviría nunca'", "Acá hay decisiones de diseño que tienen ese riesgo, y es ahí donde me siento representada".
by Pia Cardoso
"La arquitectura son procesos de comunicacion, dialogo, colaboracion, de urbanidad. Una Network que despierta un dialogo de cuestiones alrededor de la diciplina. Pensamos la arquitectura como una diciplina cultural con un proposito pracico"

"We specialize in the reformation and enhancement of architecture" says Karina Kreth, an architect and creative director whohelms Triba. "We're interested in the transformation of the city through the day-to-day"
"Public art, and its inevitable connection with architecture, holds the possibility of enriching the everyday"
by Gabriela Pallares
Karina Kreth es arquitecta, directora de arte y empresaria. Junto a su hermana Vanesa, es el motor detrás de la reconocida firma de diseño y producción de muebles para chicos Krethaus.
La marca, con un origen argentino pero horizonte claramente global, se comercializa y gestiona internacionalmente.
Incoming and Brand Summit 100 years of Bauhaus
Karina Kreth, Krethaus' Creative Director was invited by the Germany Tourism Secretary to participate in the Incoming and Brand Summit 2018, where she debated alongside Christian Drescher (Tecta) about the currentness that Bauhaus mantains presenting her essay on "The influence of Bauhaus in Latin America".
Summit Film Weimar 2018
2018
Clarín - DNI nº41
Edicion Diciembre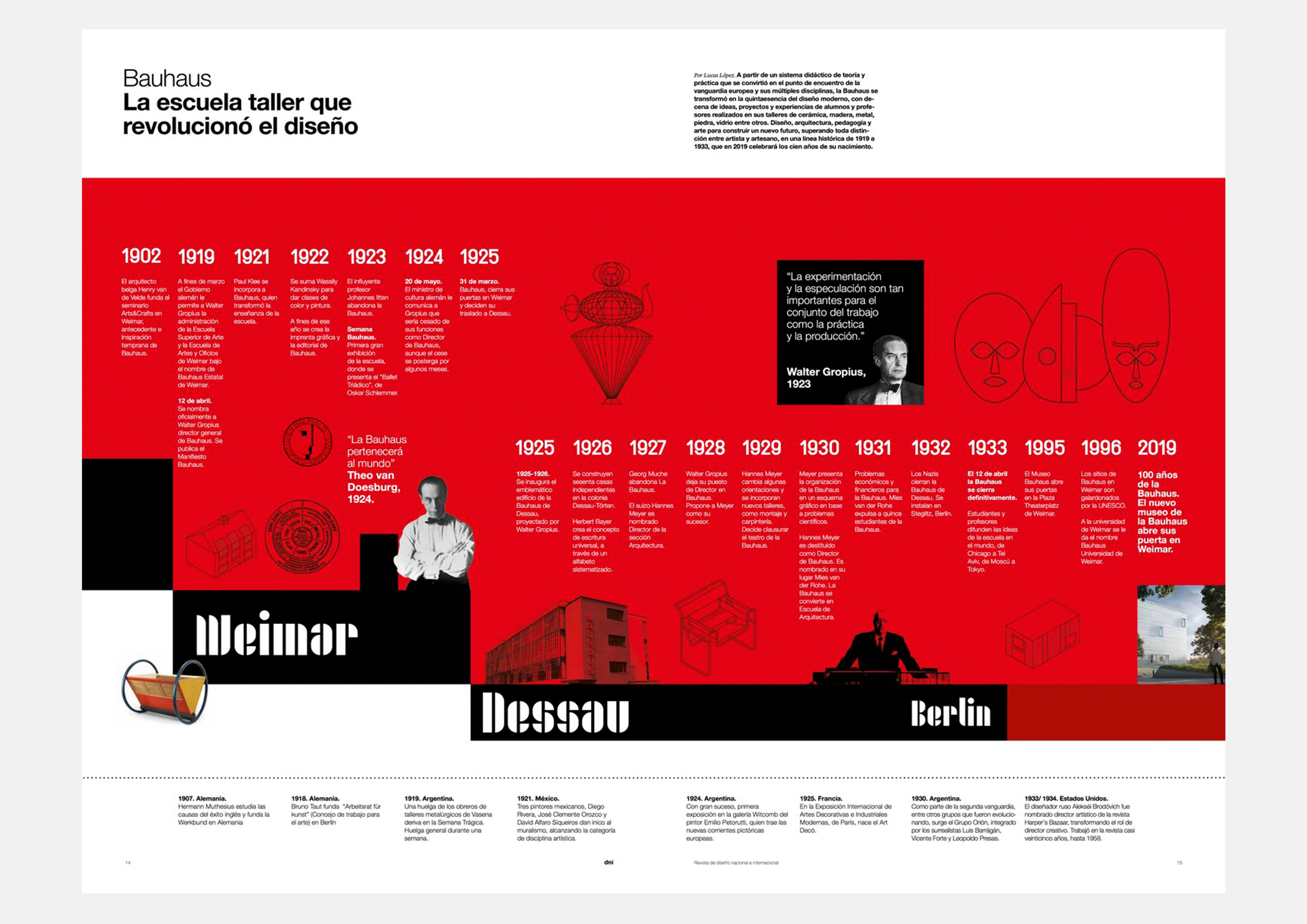 Hace diez años Karina Y Vanesa Kreth crearon Krethaus, una marca de diseño contemporaneo de muebles y accesorios inspirados en la Bauhaus, orientados a niños y niñas. Karina es arquitecta, egresada de la UBA en 1995. Desde sus años de estudiante trabajo en cine publicitario como directora de arte, oficio de transicion que contunio durante mucho tiempo. Una herramienta fundamental a la hora de transformar su mirada sobre la arquitectura.
Expo Estilo Casa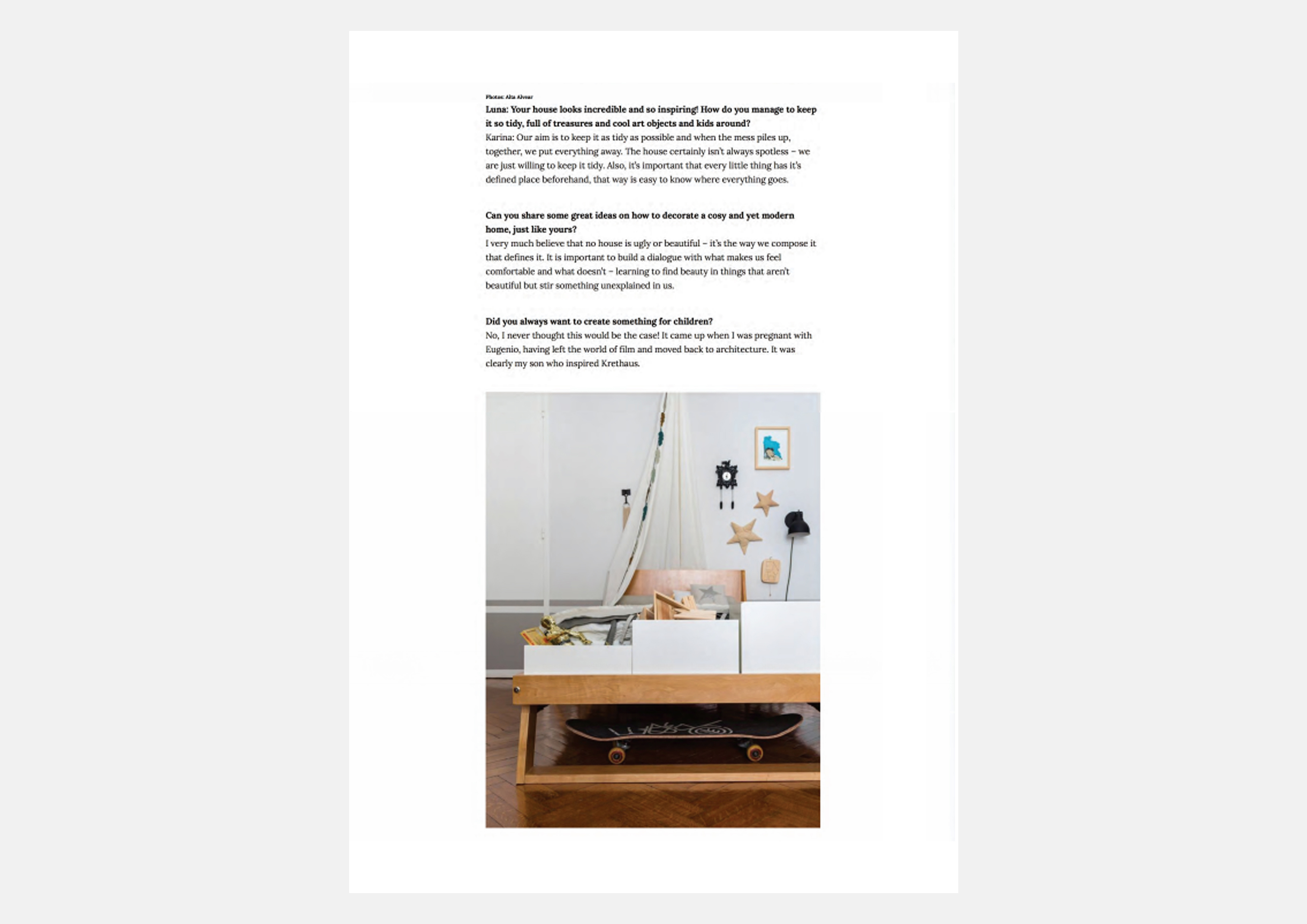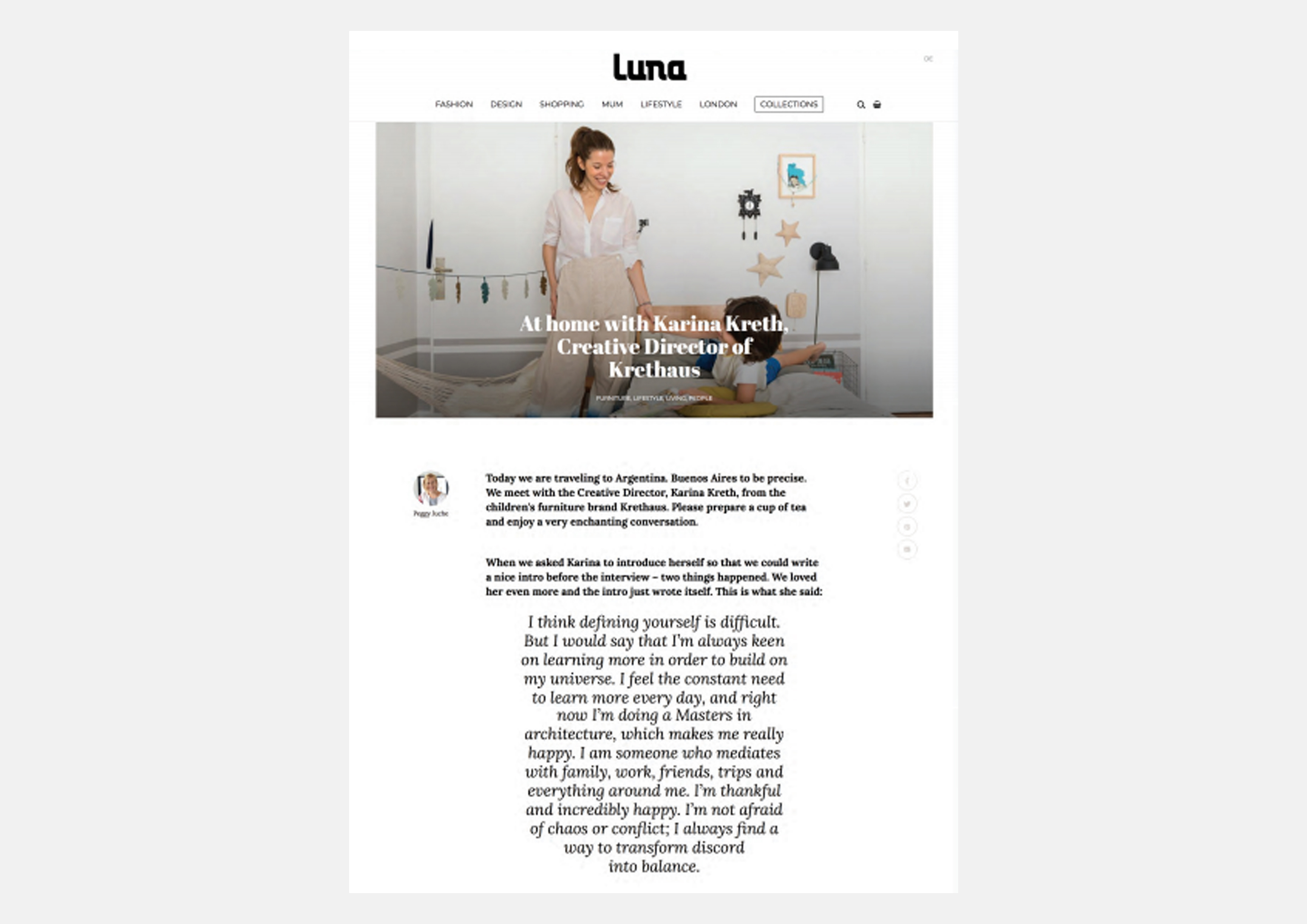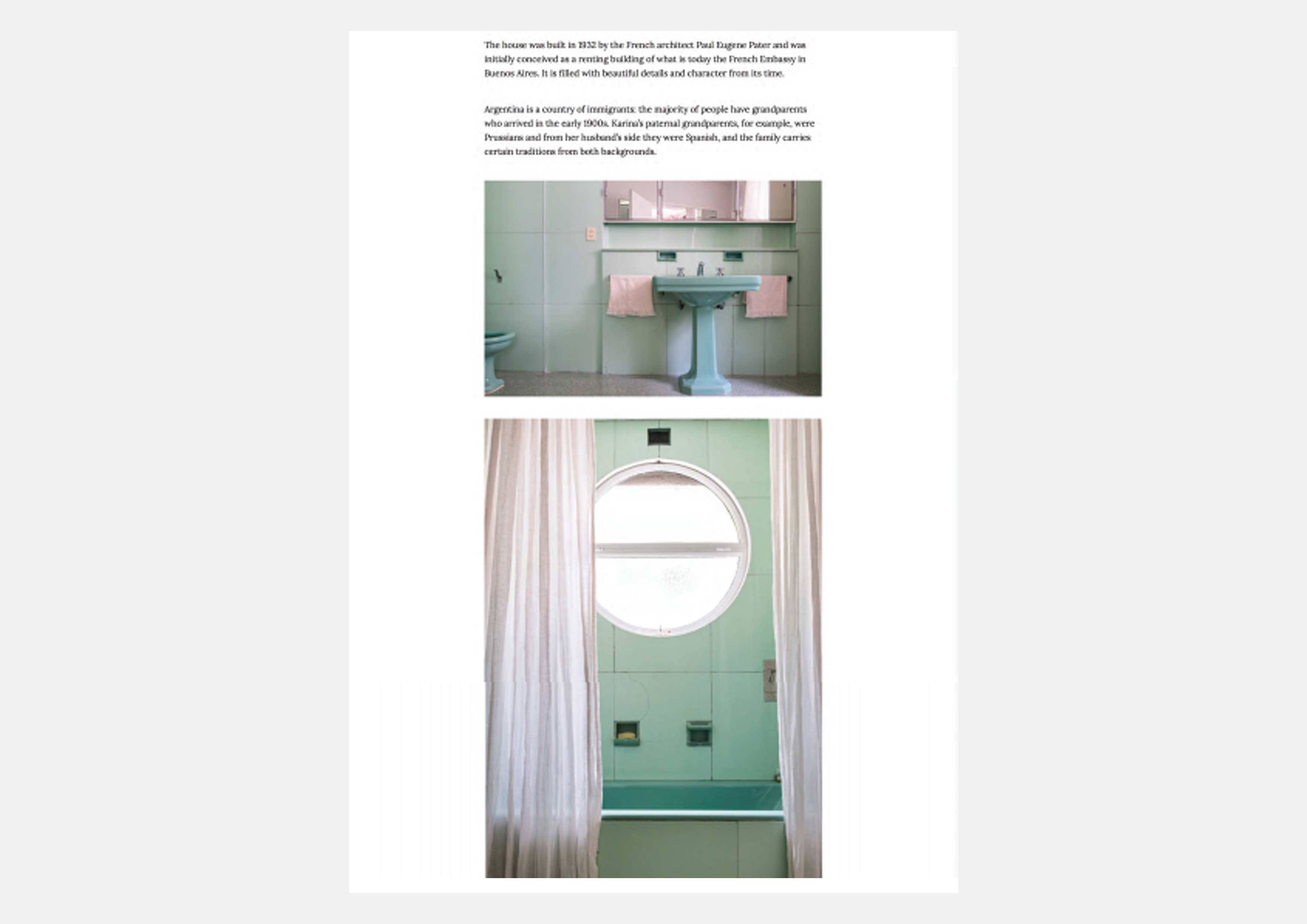 "I think defining yourself is difficult. But I would say that I'm always keen on learning more in order to build on my universe. I feel the constant need to learn more every day, and right now I'm doing a Masters in architecture, which makes me really happy. I am someone who mediates with family, work, friends, trips and everything around me. I'm thankful and incredibly happy. I'm not afraid of chaos or conflict; I always find a way to transform discord into balance."
"Cuando me llegan los proyectos, para mí son relatos, guiones, es ahí cuando la arquitectura se vuelve sensorial más que una arquitectura ordenada, de plano, con morfología y funcionamiento. Es mucho más importante todo aquello que se experimenta y el clima que se crea en relación a ese relato de cada uno"
2017
Elle magazine, Argentina
Edicion Mayo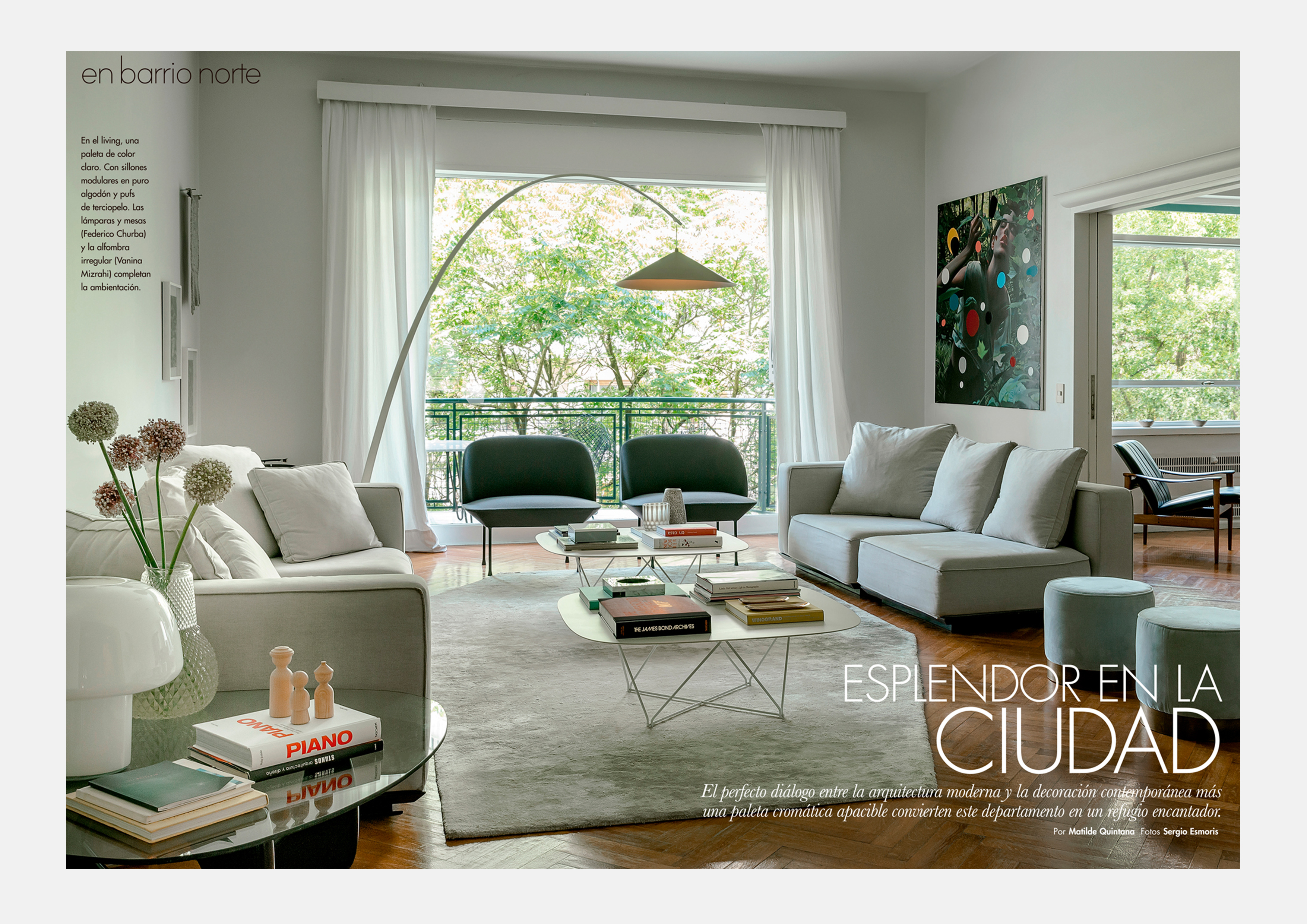 Esplendor en la ciudad. El perfecto dialogo entre la arquitectura moderna y la decoracion contemporanea mas una paleta cromatica apacible convierten este departamente en un refugio encantador.
by Barbara Orlando
2017
Revista Living
Edicion Julio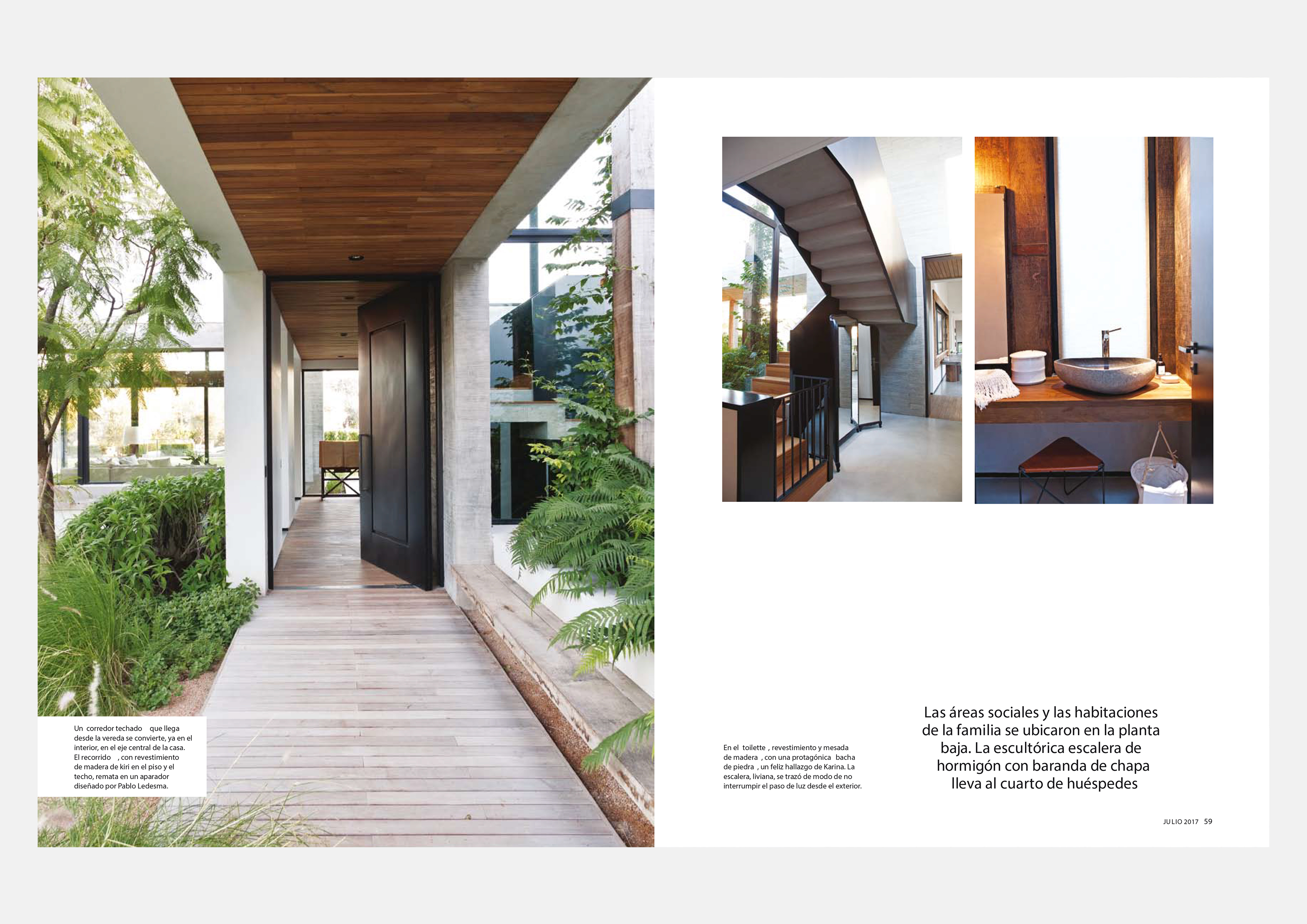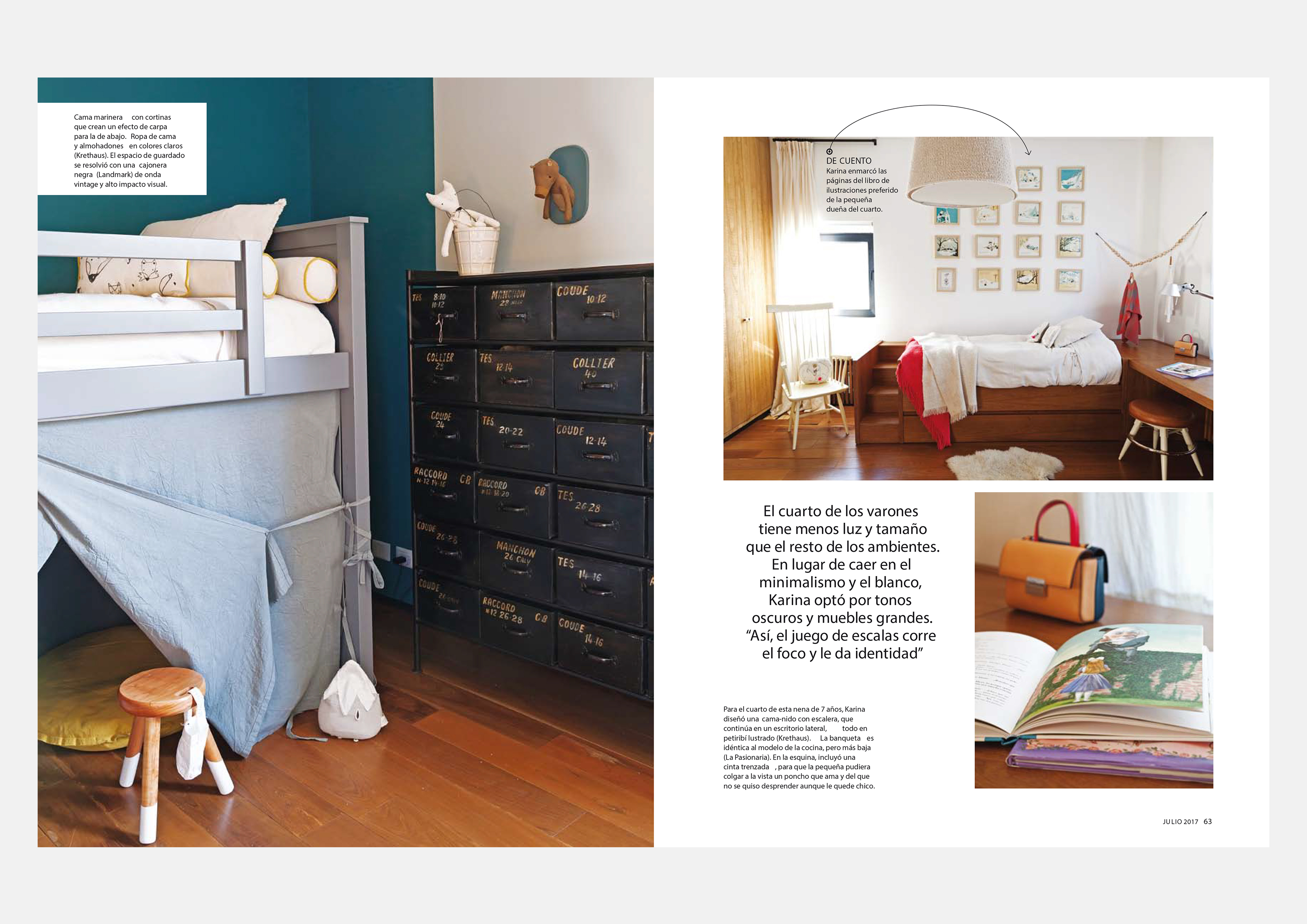 "Para mi, la vida de una familia es un guion" dice Karina Kreth. Ella se formo como arquitecta, pero trabajo casi veinte años como directora de arte en cine y publicidad antes de iniciar su estapa de interiorista y diseñadora de muebles al frende de su firma Krethaus.
[print]
2017
Revista Dossier
Edicion Agosto
Su Estudio es una plataforma multidisciplinaria de arquitectura orientada a la familia contemporánea con un propósito definido: componer y producir arquitectura, interiores y objetos con el carácter único de cada proyecto.
[print]
2016
La Nacion Revista n22
Cuando en 1995 Karira Kreth se graduo en la carrera de arquitectura (FADU-UBA), ya que contaba con años de experiencia como diseñadora de vestuario, en el area publicitaria y de videoclips. Esto, junto a su formacion academica, le permitio otra visualizacion de cada proyecto, logrando desempeñarse como directora de arte para importantes productoras del pais.
by Living
El pasado 16 de mayo se llevó a cabo la primera de las acciones que realizarán en conjunto la cadena Falabella y la Revista Living. En este caso fue un seminario donde reconocidos profesionales del rubro de la decoración, la arquitectura y el diseño se juntaron para contarte las nuevas tendencias y brindarte soluciones para tu espacio. La velada fue presentada por Mariana Kratochwil, la directora de la revista Living, quien dio paso a los oradores de la tarde. En este caso, compartieron la charla el arquitecto Martín Zanotti, la decoradora Analía López Angriman, la diseñadora de interiores Grace Devecyan, la arquitecta Karina Kreth y el ambientador Martín Roig.